CORPORATE GIFTING, MODERNISED
Send your colleagues, clients, business partners, and work mentors the heartfelt appreciation they deserve, with a meaningful gift that counts. At Happy Bunch, we make thoughtful & personalised gifting possible, at scale.
This way, you can send gifts like you mean it!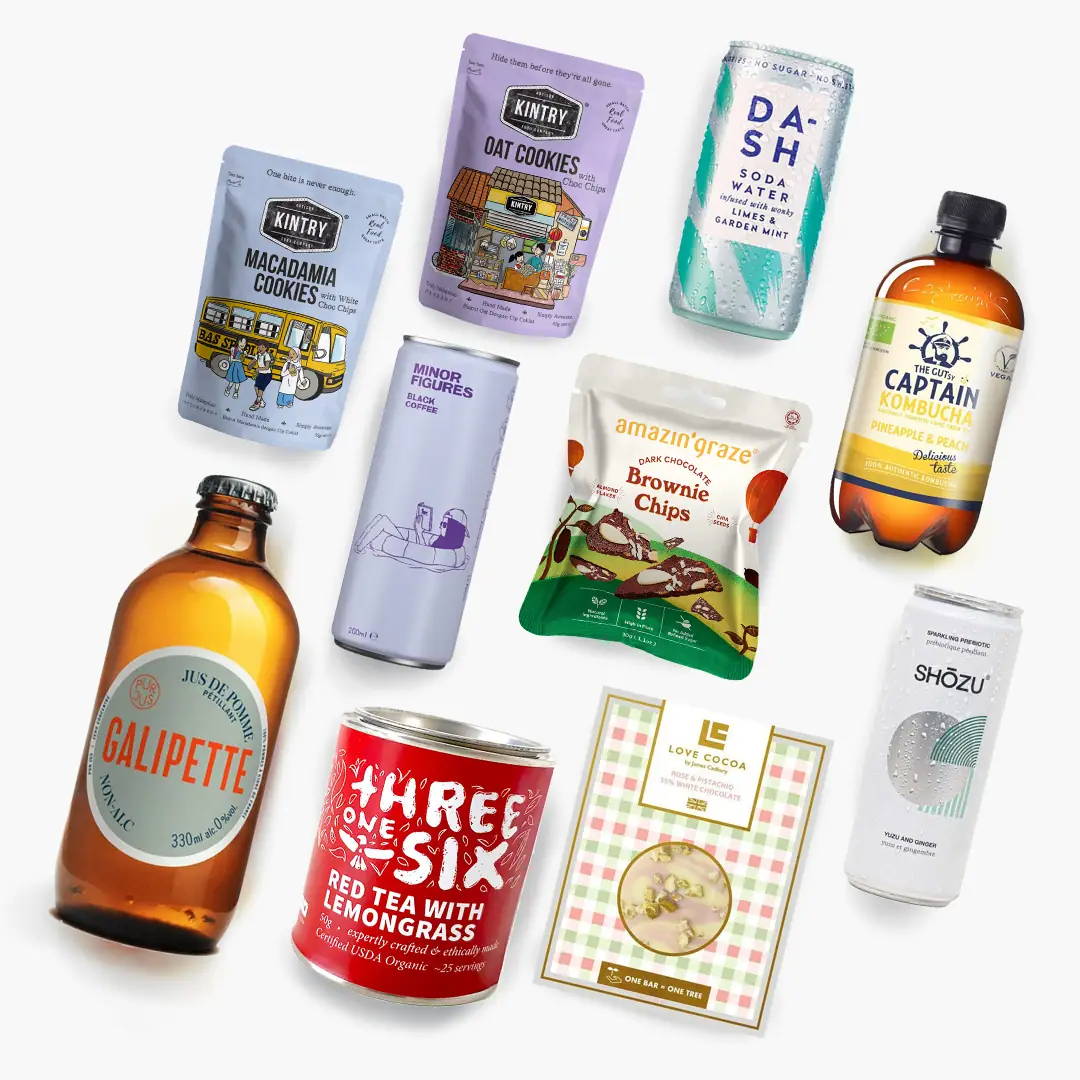 A range of high quality corporate gift items hand-picked by us to delight your teams, clients and partners.
All You Need In One Place
From product sourcing, vendor coordination, packing, printing, to doorstep delivery, we'll take care of it all.
Easy, Reliable Partnership
Reliable service for large gifting events as well as regular on-going gifting needs of HR and team managers.
No matter how big or small your company, we've got you covered for every milestone and every occasion.
CORPORATE CONCIERGE SERVICES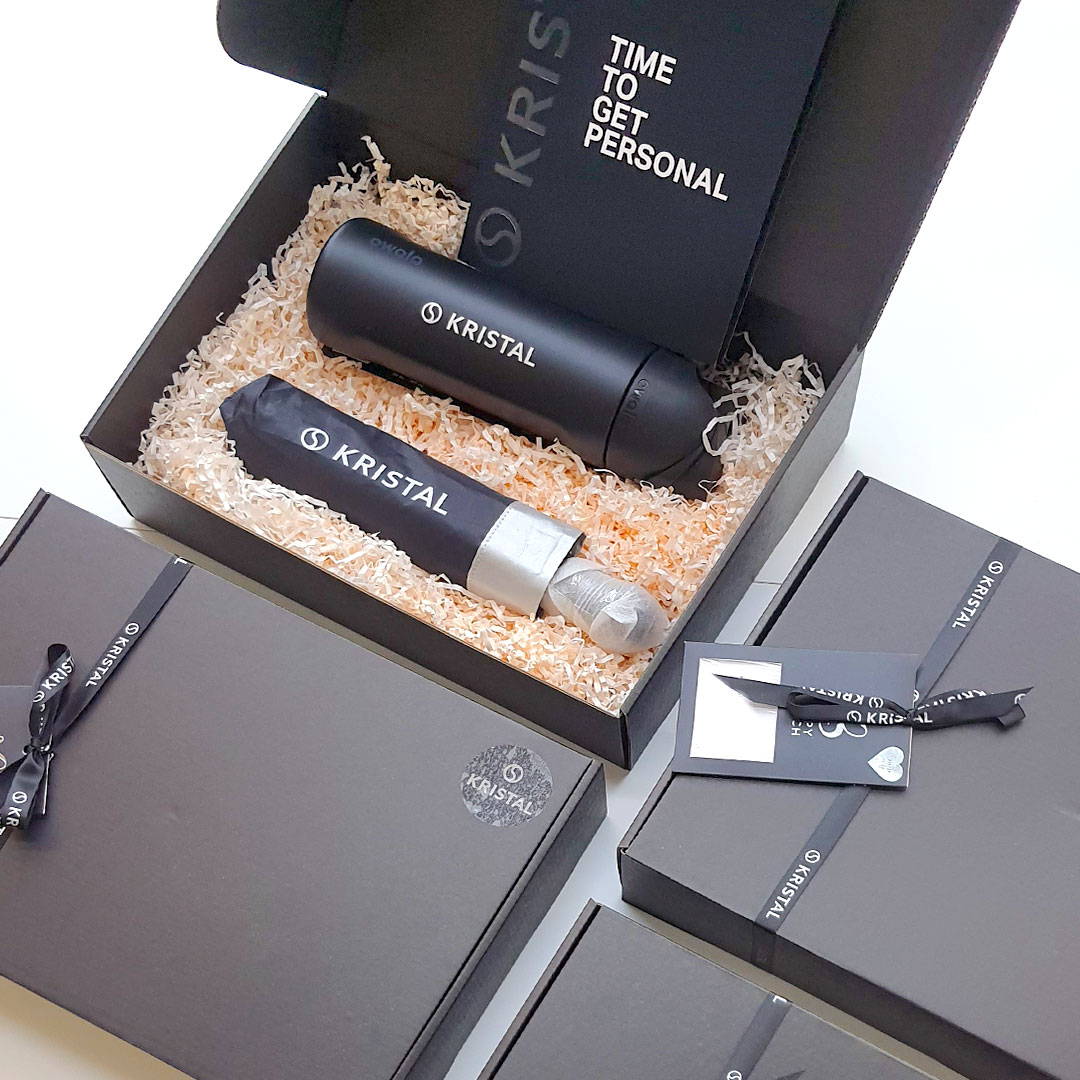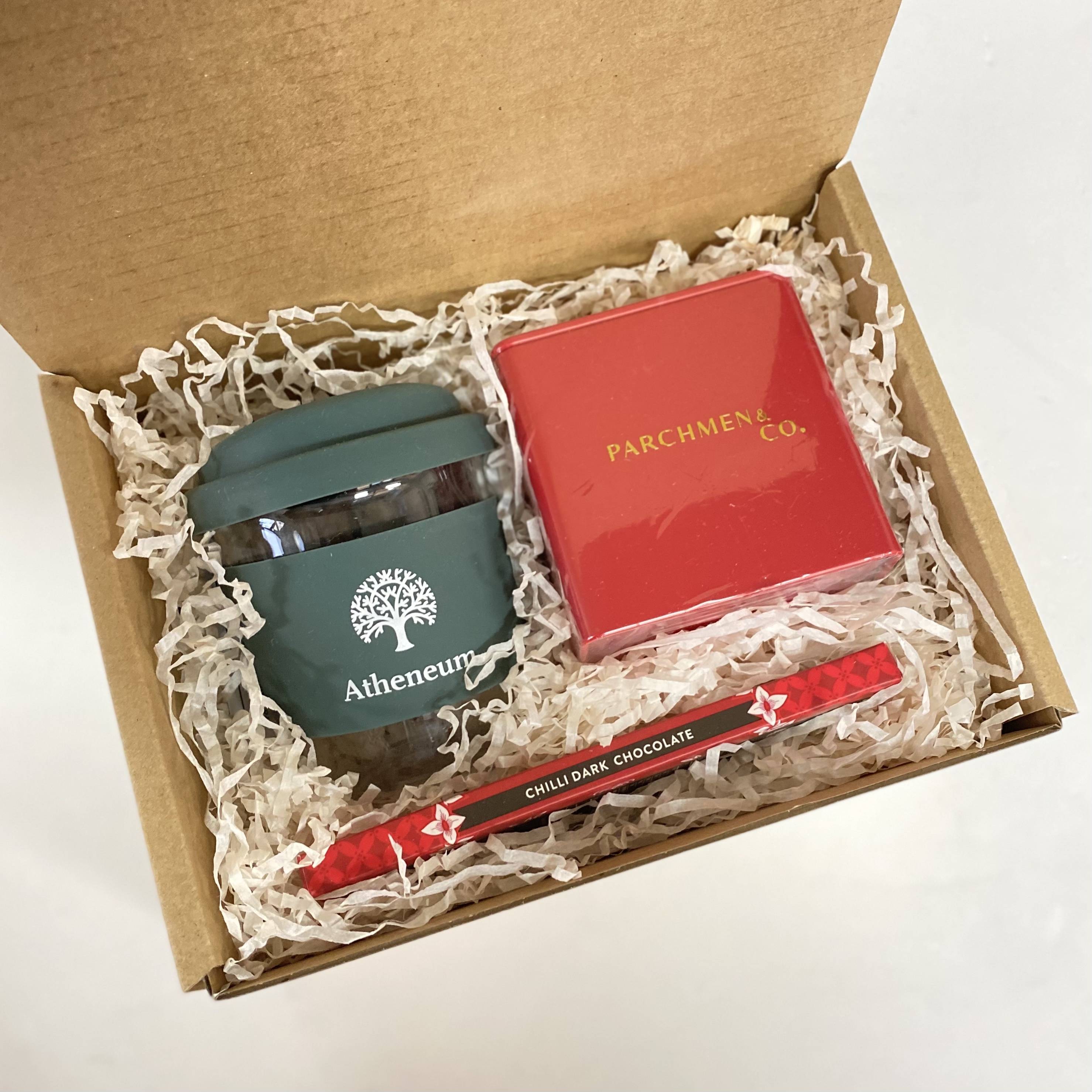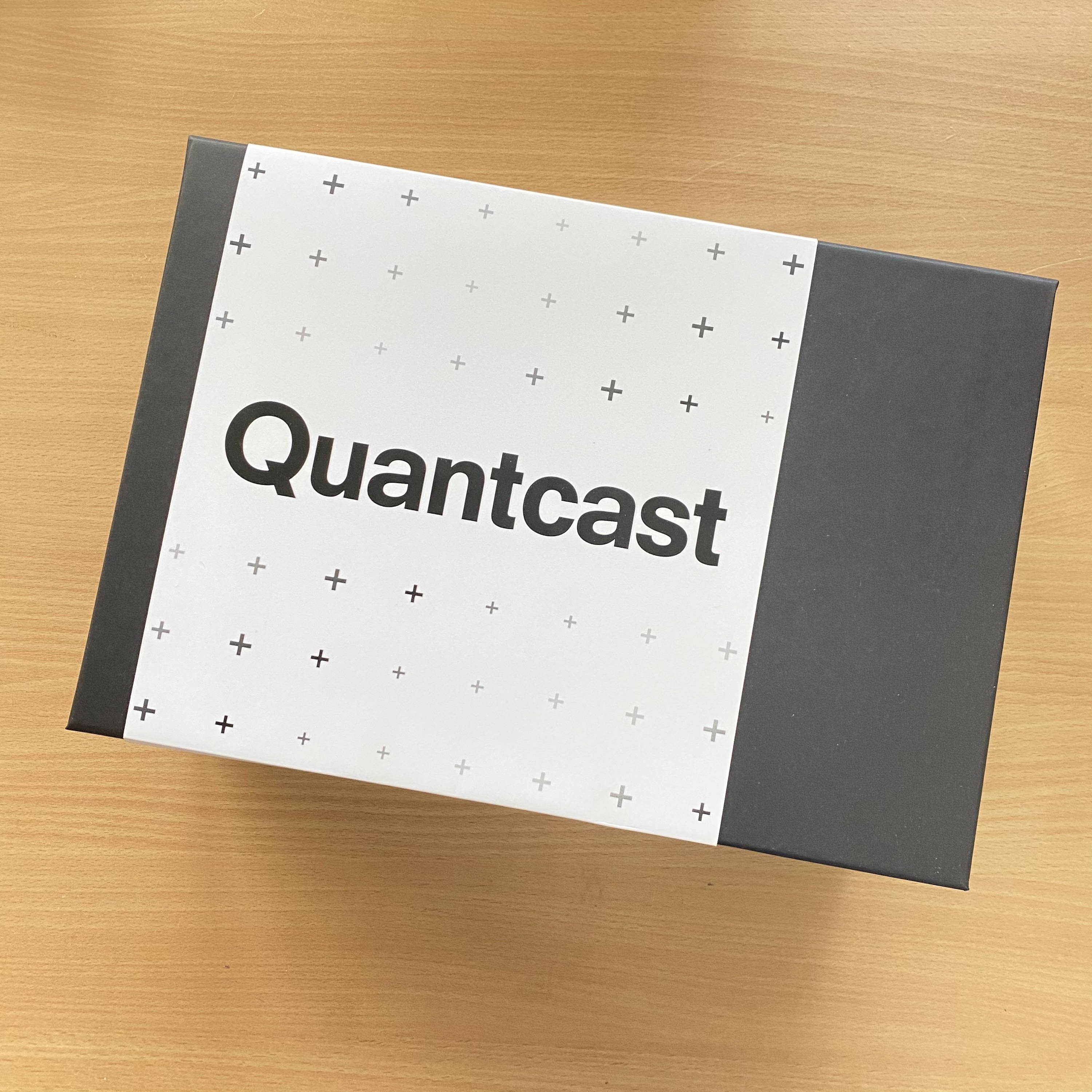 Customised Corporate Swags
Put together great company swags to leave a lasting impression where it matters! Can't find what you are looking for in our catalogue? Leave it to us to help you source and manage the following :
1) Personalised swags for your teams to feel proud of their workplace
2) Customised onboarding kit for new team members
3) Event goody bags or door gifts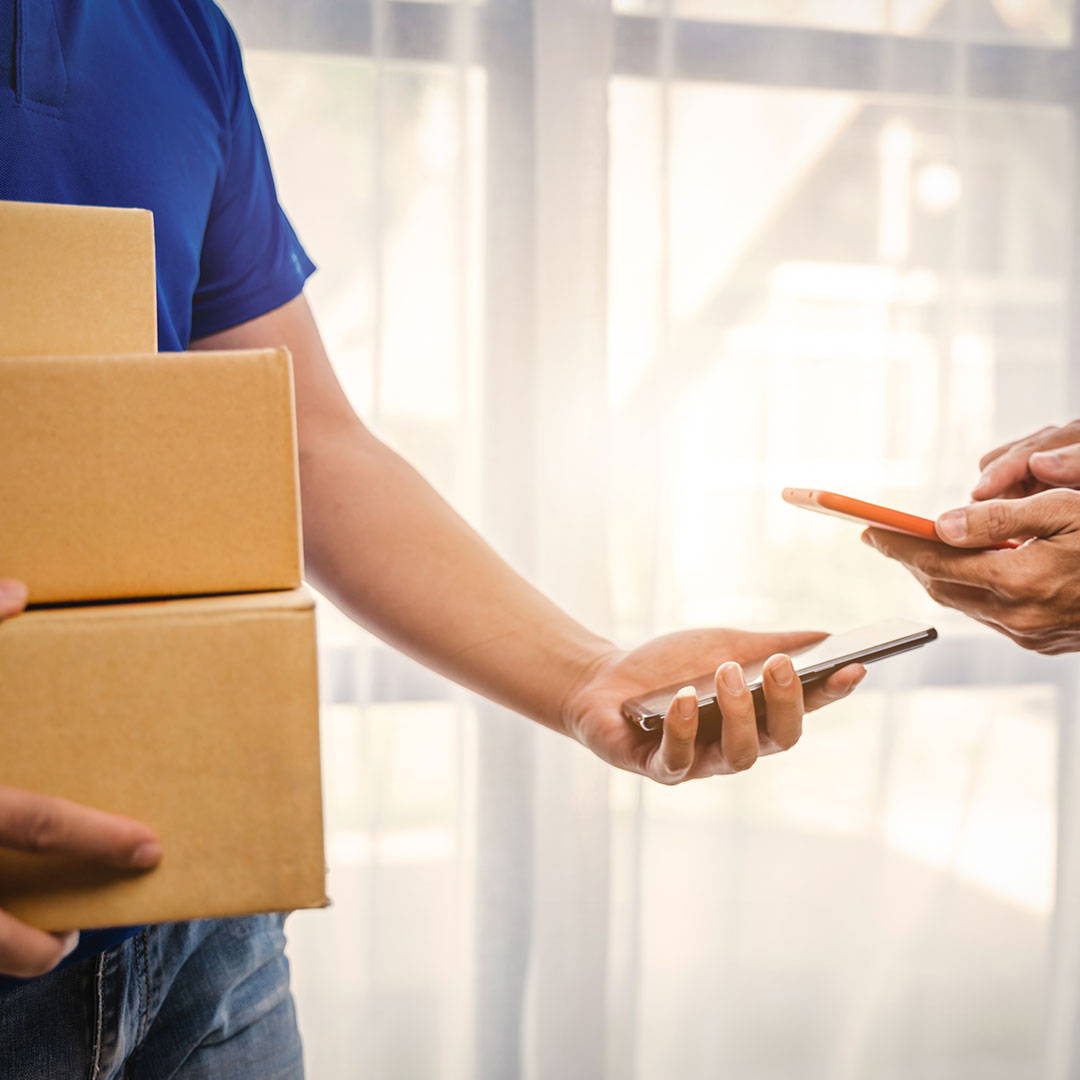 One Stop Logistical Solution
Its not just the gifts but the entire presentation of the gift and the delivery service that elevates the gifting experience. Transfer that logistic hassle to us. We offer the following for your convenience :
1) Coordination and handling services across multiple vendors
2) Storage and packaging of your corporate swags
3) Easy bulk delivery template
Gifting can sometimes be an ad-hoc & tedious undertaking for HR, who need to send gifts for staff all year round. This is why we have come up with the following to alleviate your burden :
1) A white labeled solution with your company branding
2) Personalised self redemption experience with customised e-vouchers
3) Flexibility of gift options
COVERING ALL YOUR CORPORATE GIFTING NEEDS, ALL THROUGH THE YEAR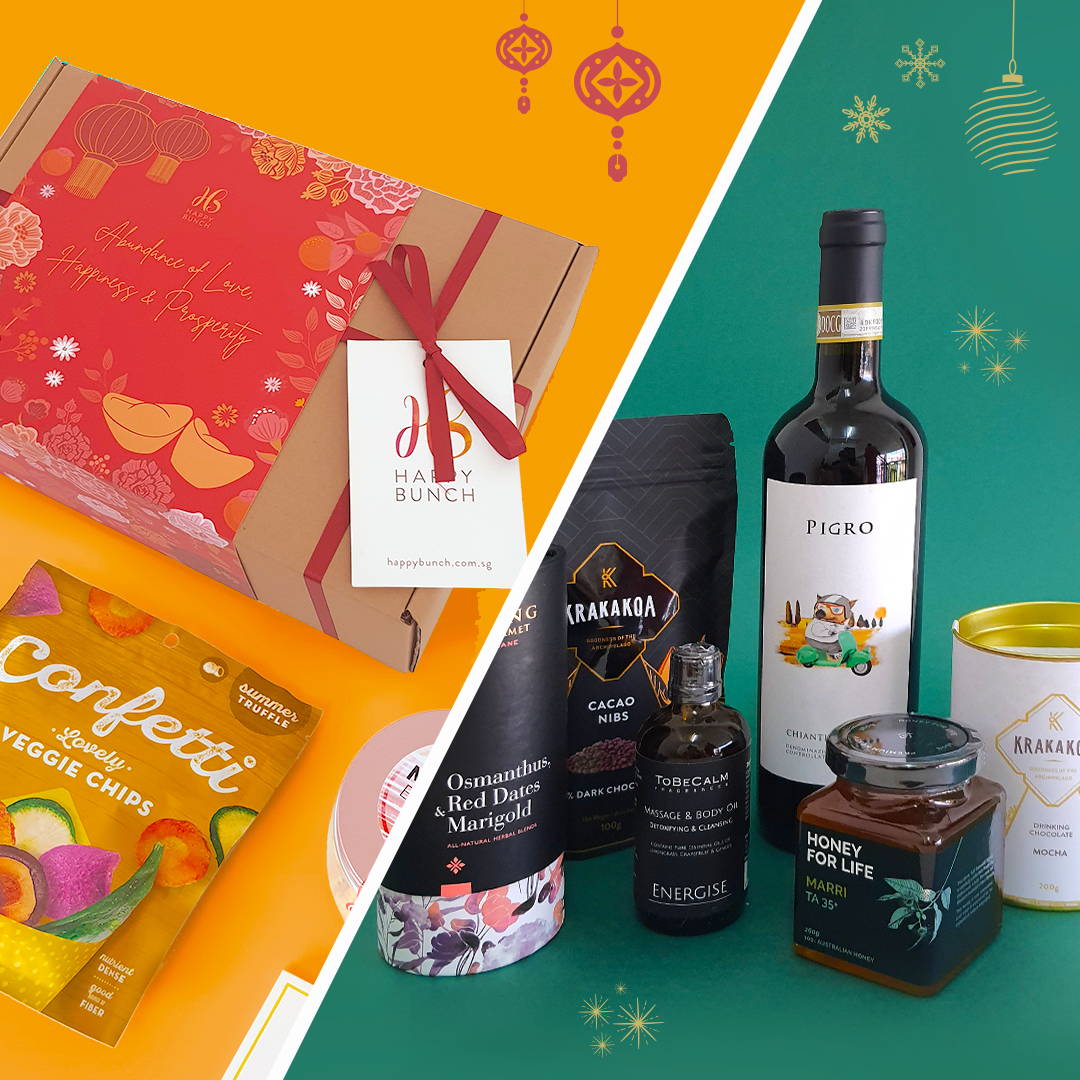 From Chinese New Year, Hari Raya, Mid-Autumn Festival, Deepavali to Christmas, we have you covered, with our curated festive specials, bound to delight even the most discerning!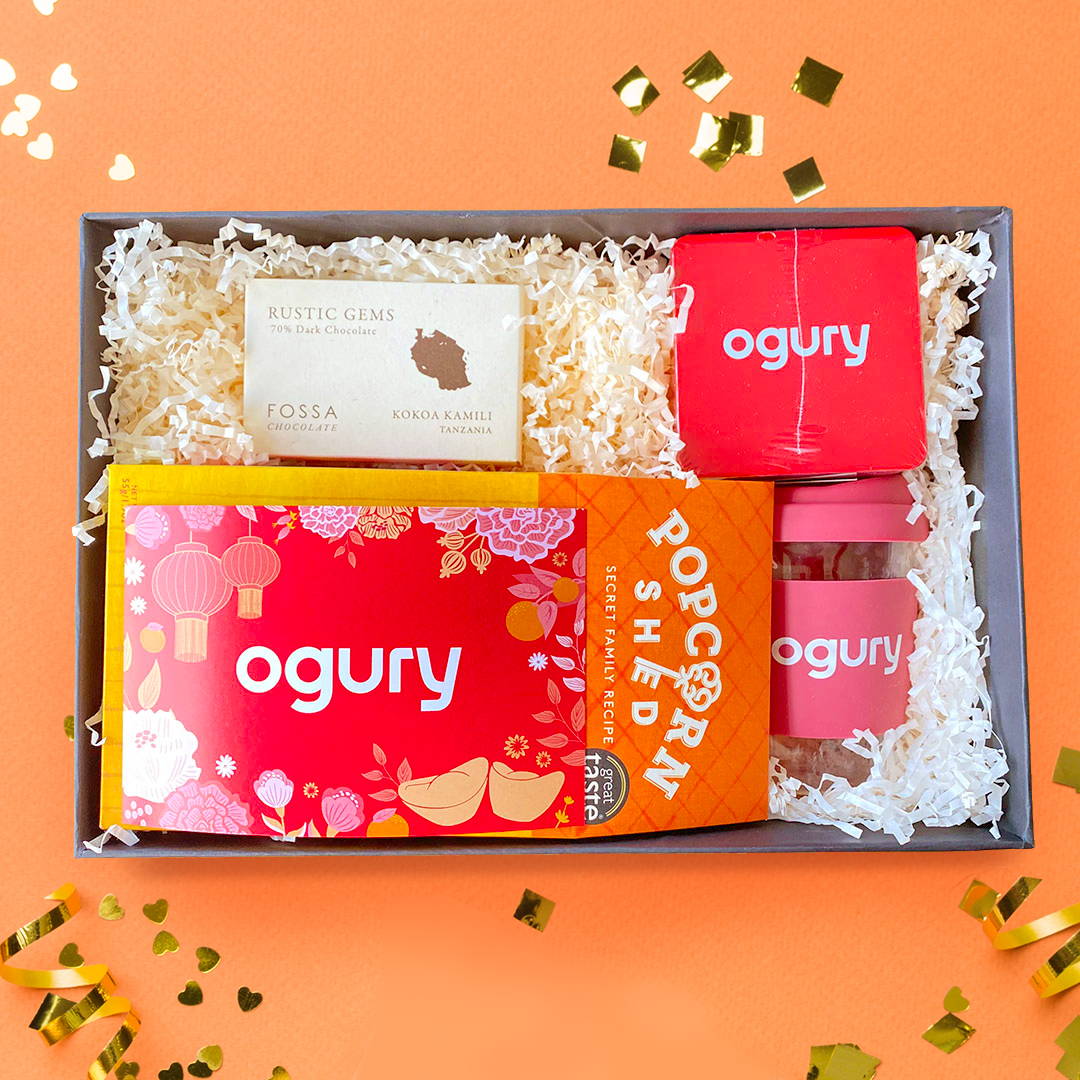 Sales targets achieved, new product launches or company expansion events? Celebrate with a personalised gift to motivate your team and commemorate this occasion!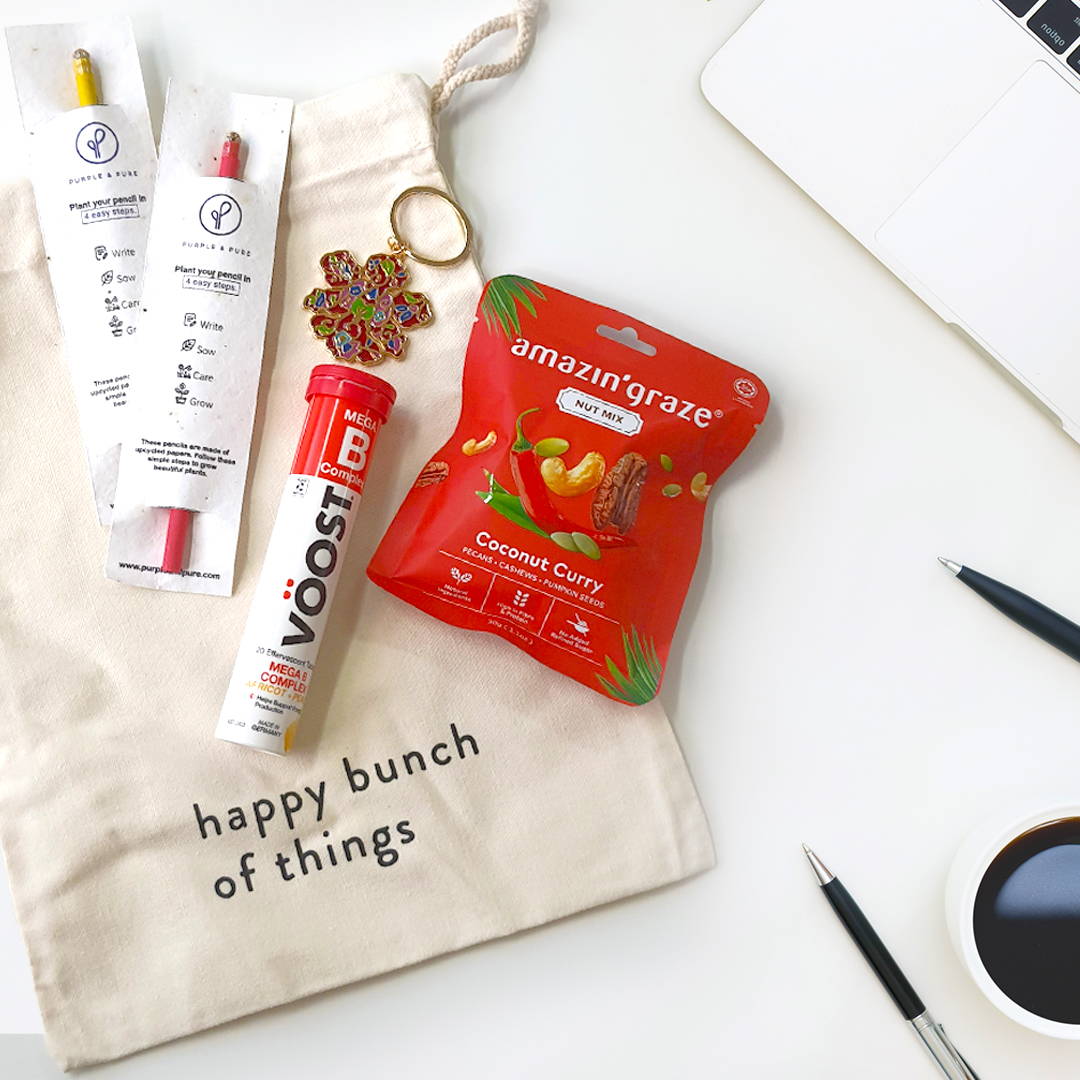 Stakeholder gifting for business partners and clients go a long way towards building relationships. Impress them with customised goody bags, door gifts or curated swags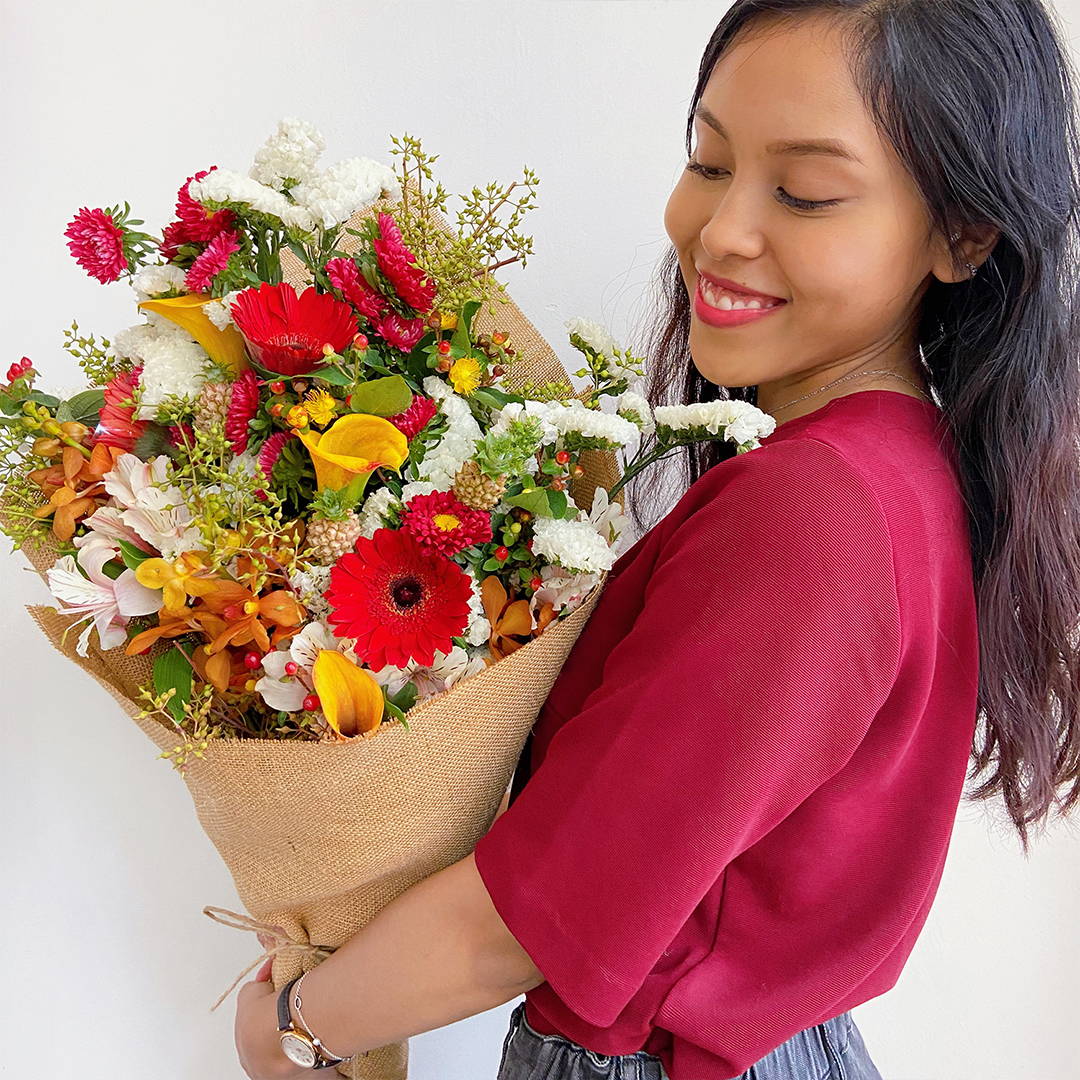 Make staff gifting personal with birthday and anniversary gift sets, get well soon care packages and newborn or wellness hampers. Show them your company cares.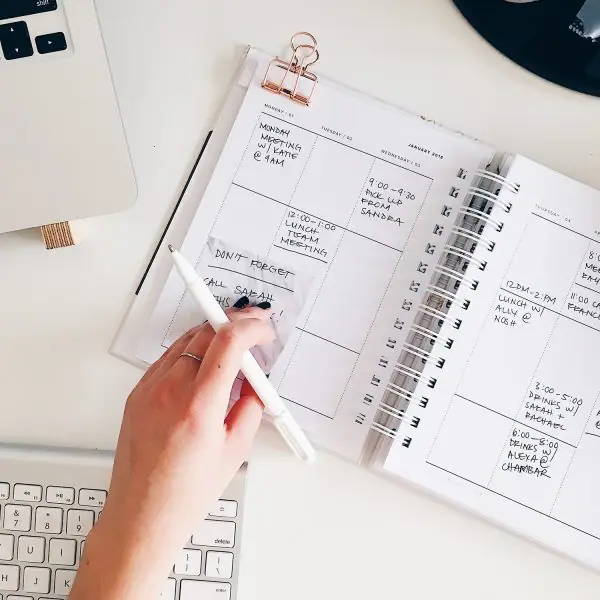 Step 1:
Define Requirements
Define your gifting requirements, so that your experience with us can be as smooth and seamless as possible.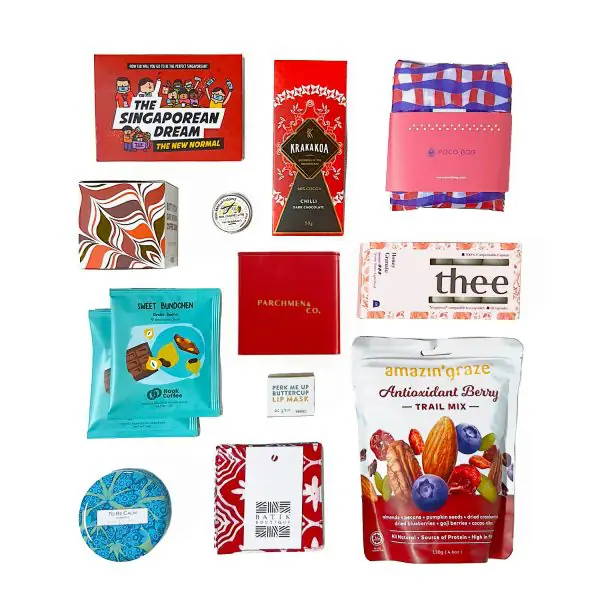 Step 2:
Select Your Gift Items
Pick and choose from our wide range of thoughtful gifts. This will keep your gesture at the top of their mind for a long time.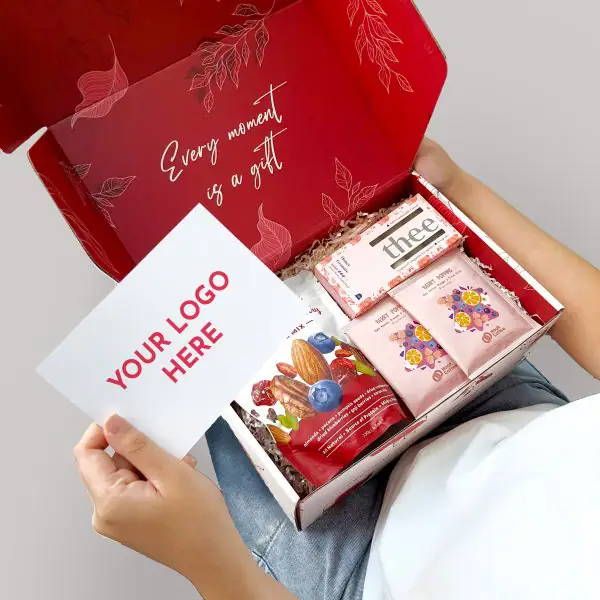 If elevated gifting is what you're aiming to do, include your brand name or tagline by customising your gifts.
Step 4:
Sit Back & Relax!
Sit back, relax, and wait for that smile. We'll take care of the rest — from packing, printing, to delivery islandwide!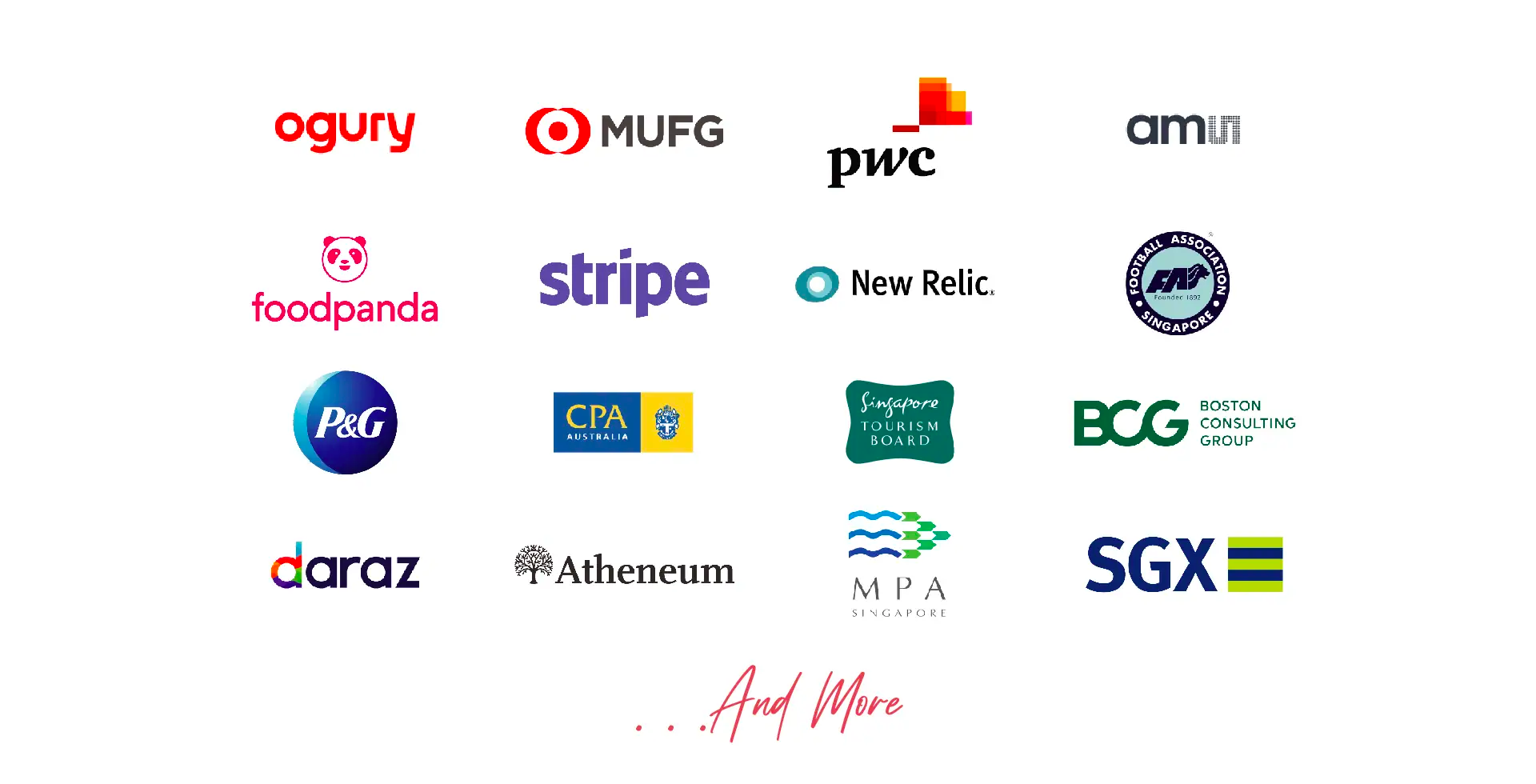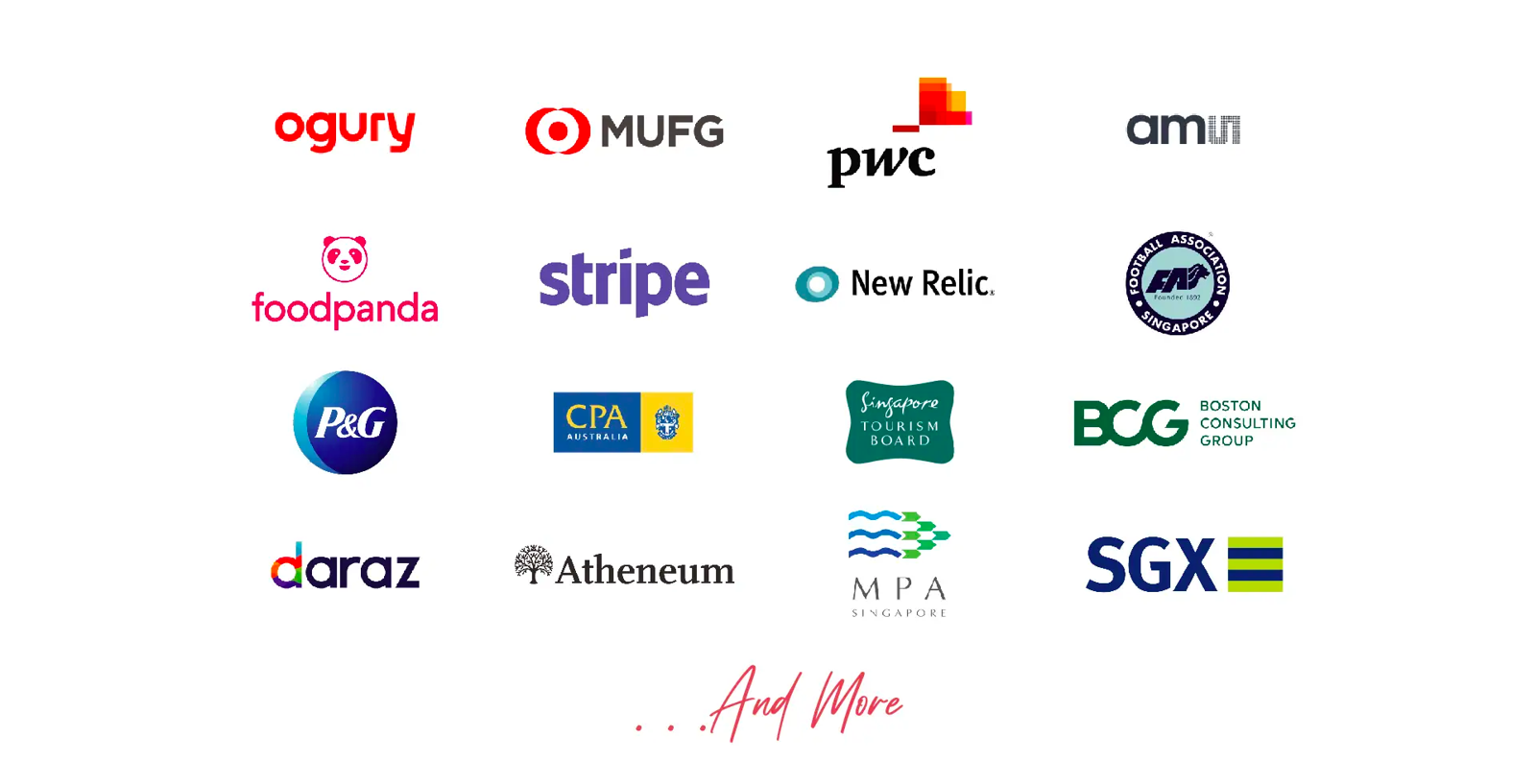 The Happy Bunch team was very responsive from order, to the support for the customisation of the design, till follow-up on after the delivery to the team. A great and easy way to share a care pack with the team.
Excellent customer service! This is my first time engaging with Happy Bunch to customise my corporate gifts. I love how flexible they are, and I really appreciate the fast, efficient customer service. They are very thoughtful when it comes to packaging. They even printed my message on a beautiful card! Thank you, Happy Bunch! My recipients are very happy with the surprise gifts! Love it!
Happy Bunch offers a good selection of items that makes customised gifting special and meaningful for our intended recipients. Service and communication was great and delivery was as promised. There is definitely a commitment to quality. Thank you for the pleasant and wonderful experience!
It has been a pleasure working with the Happy Bunch team. We received excellent service and speedy delivery from Happy Bunch. Our folks were really surprised to receive the specially curated gift box from our company and they loved it! Thanks again!
We are truly impressed by Happy Bunch's outstanding service. Our company event was a success. Our employees are delighted to receive these amazing gifts. The process was so smooth and seamless, your choice of gift items are really unique and thoughtful. A big thank you to the Happy Bunch team for making our day!
Just wanna say a big Thank You to Happy Bunch team for making our staff surprise project a huge success! Everyone was so happy to receive the surprise, they love how it was beautifully packaged and the products inside were lovely. As the organiser, I personally love the products available, the flexibility to customise and match all my fav products together. Will definitely recommend this to my peers.
OUR PAST CORPORATE GIFT BOXES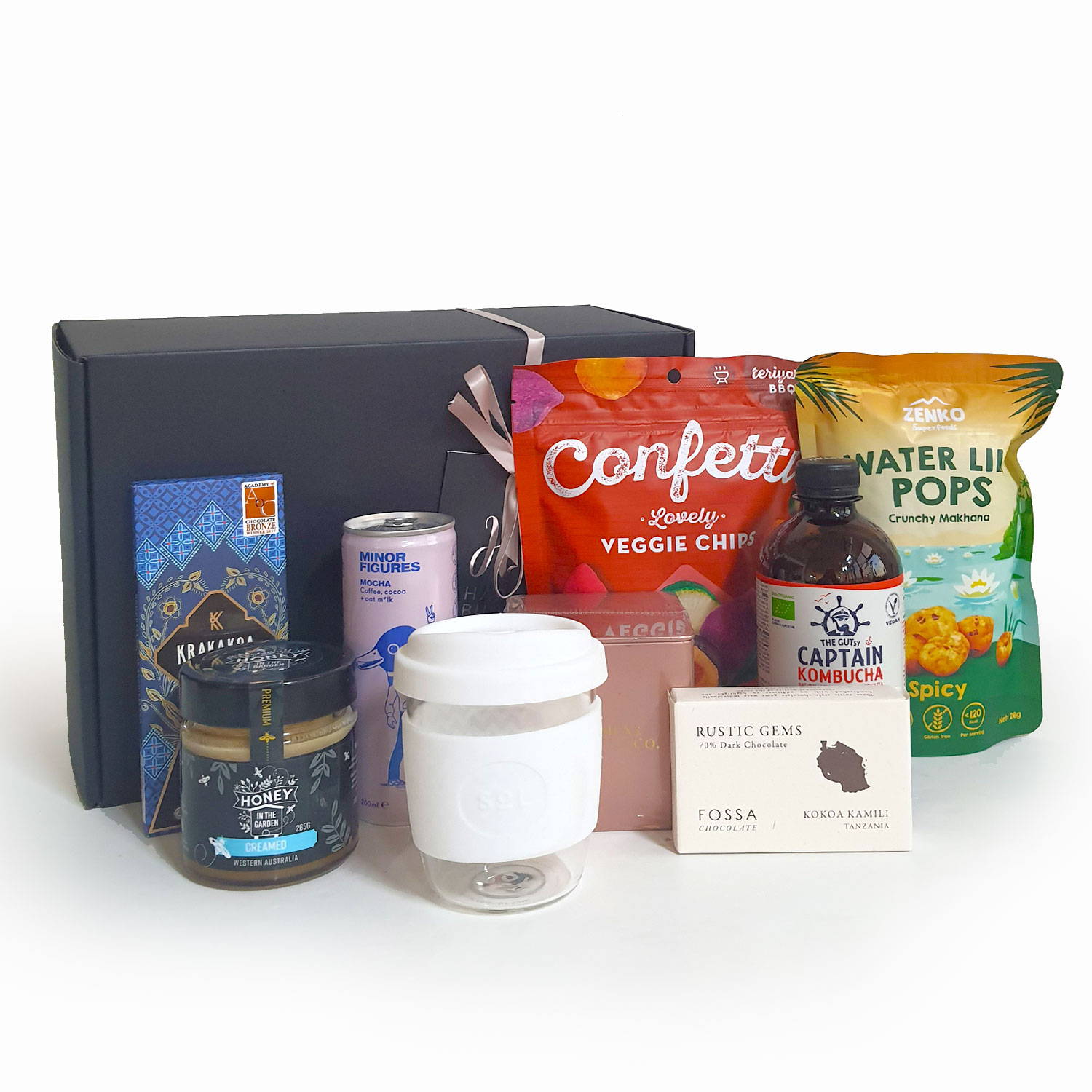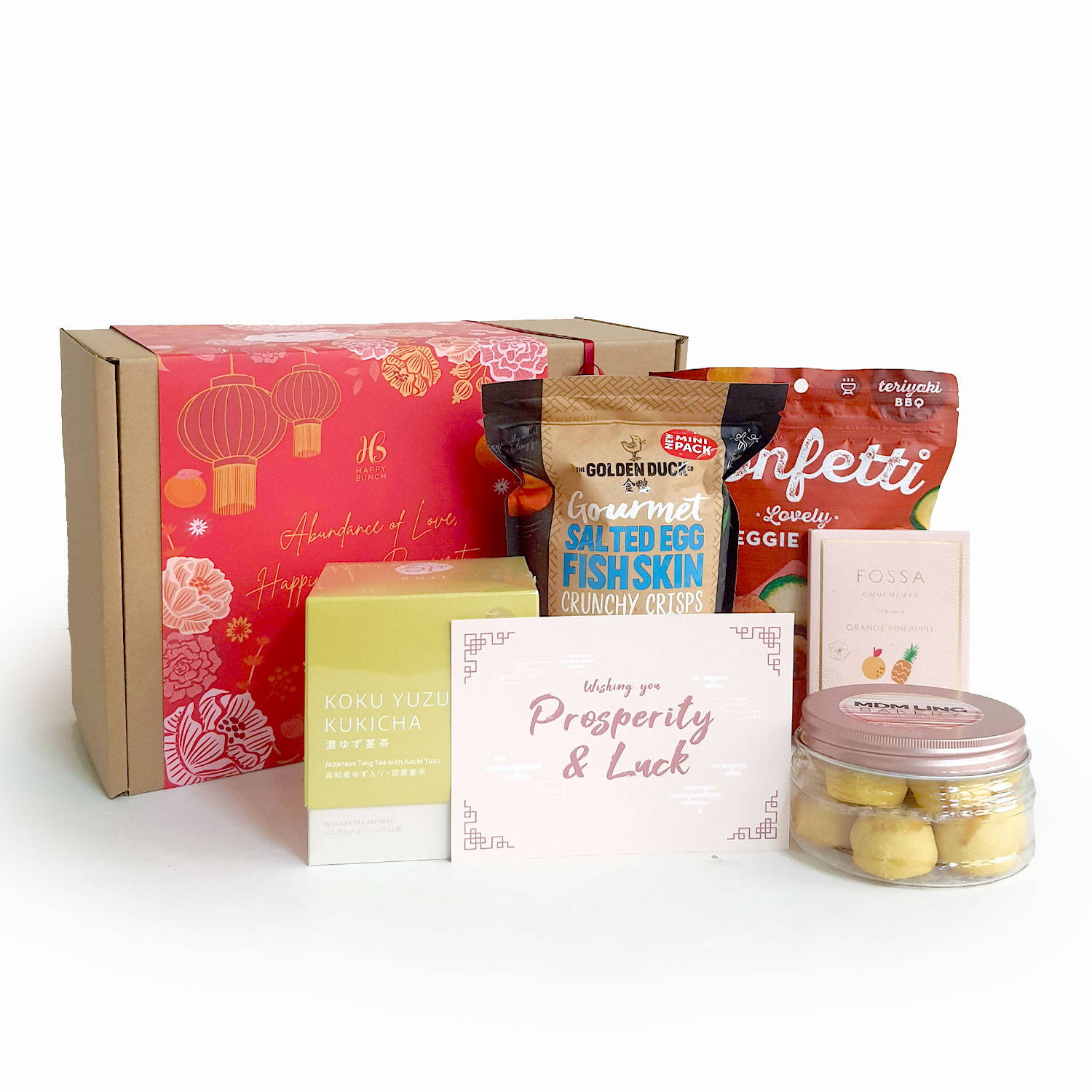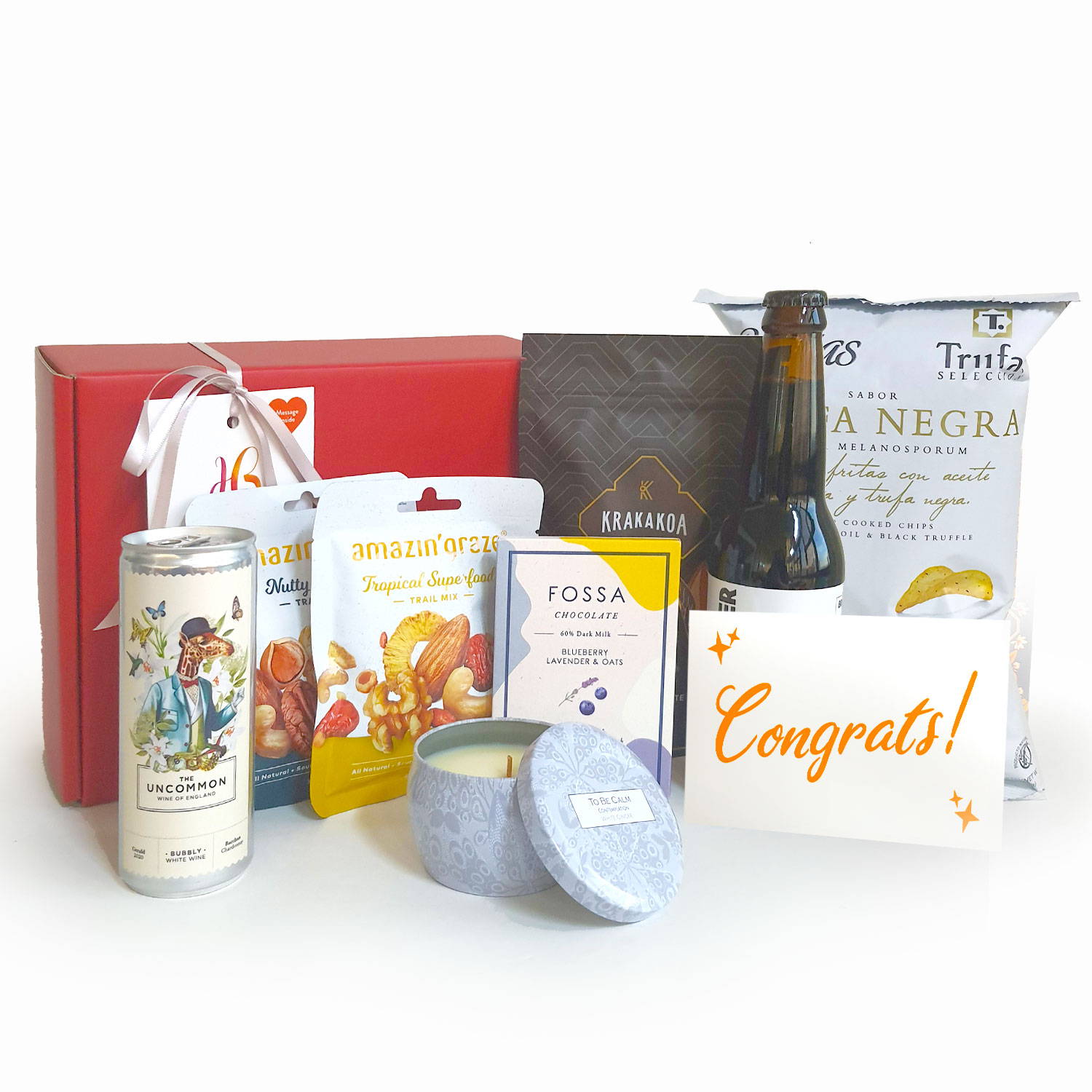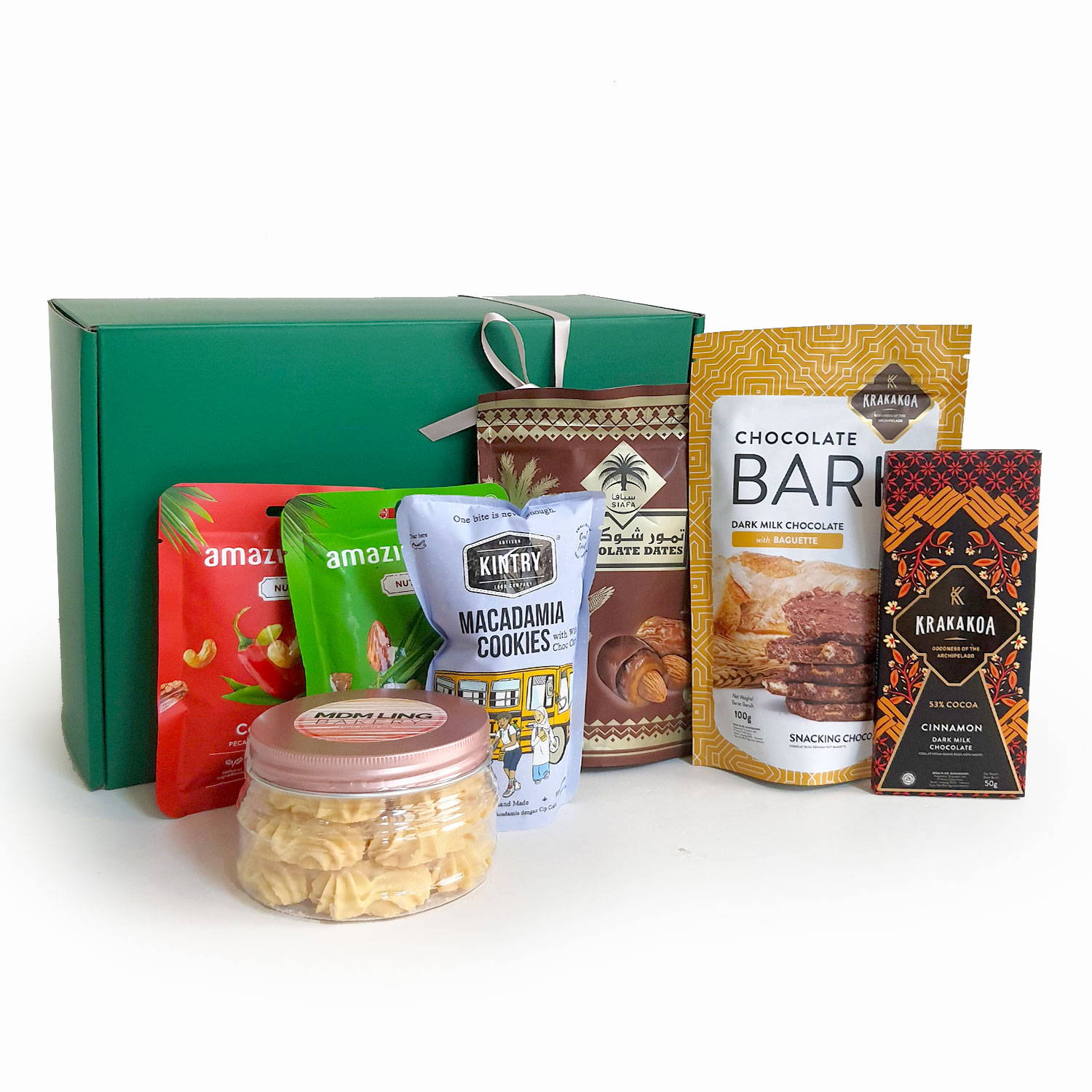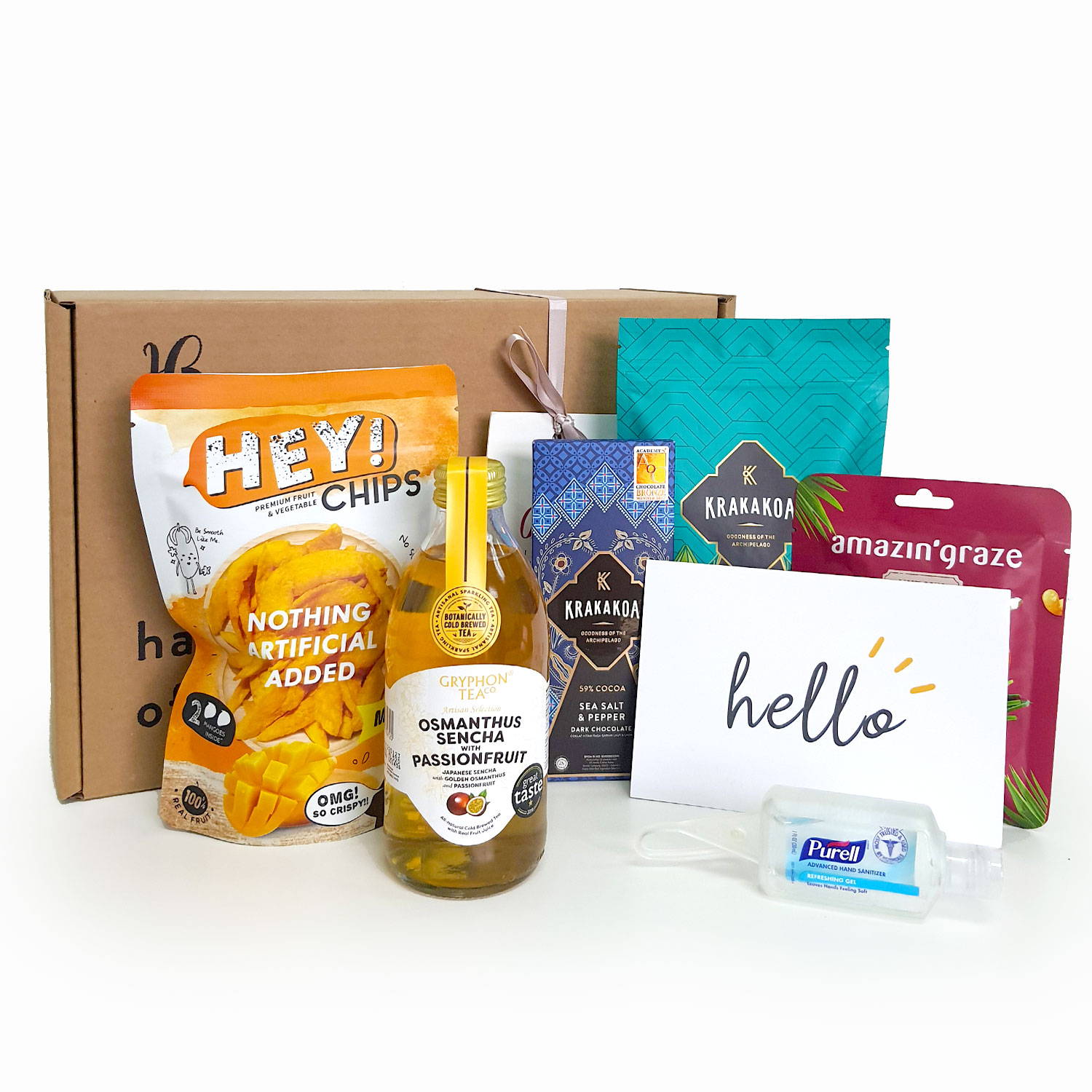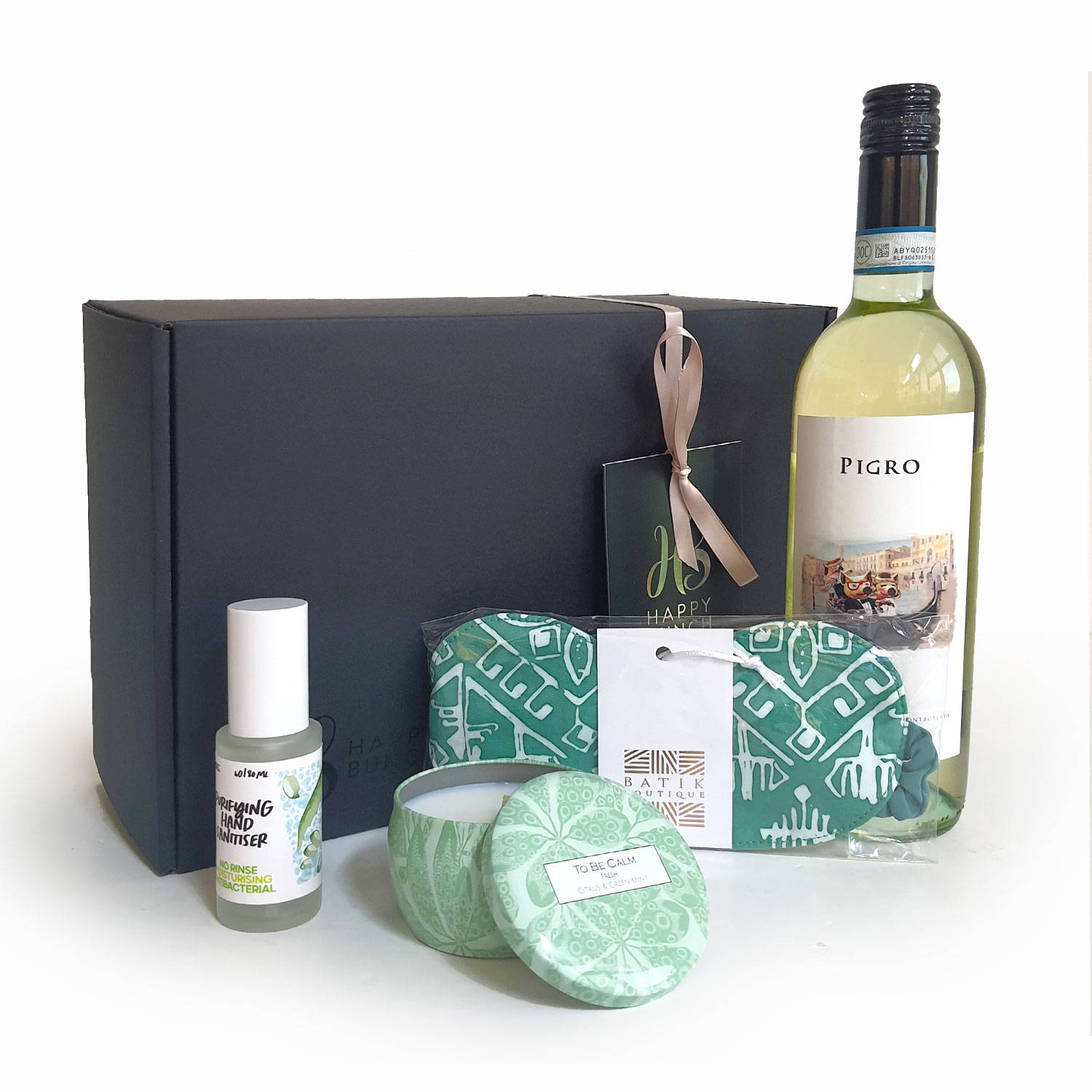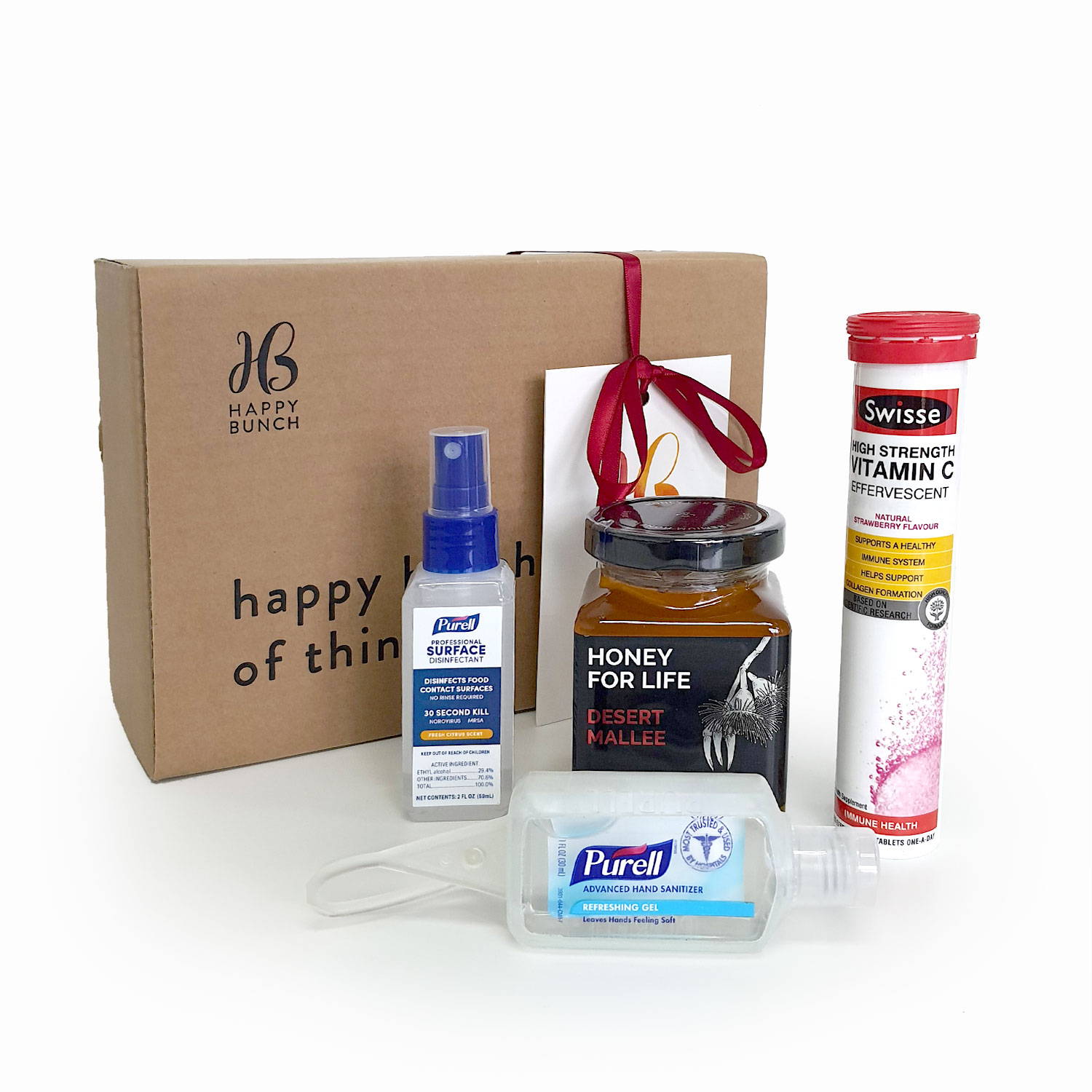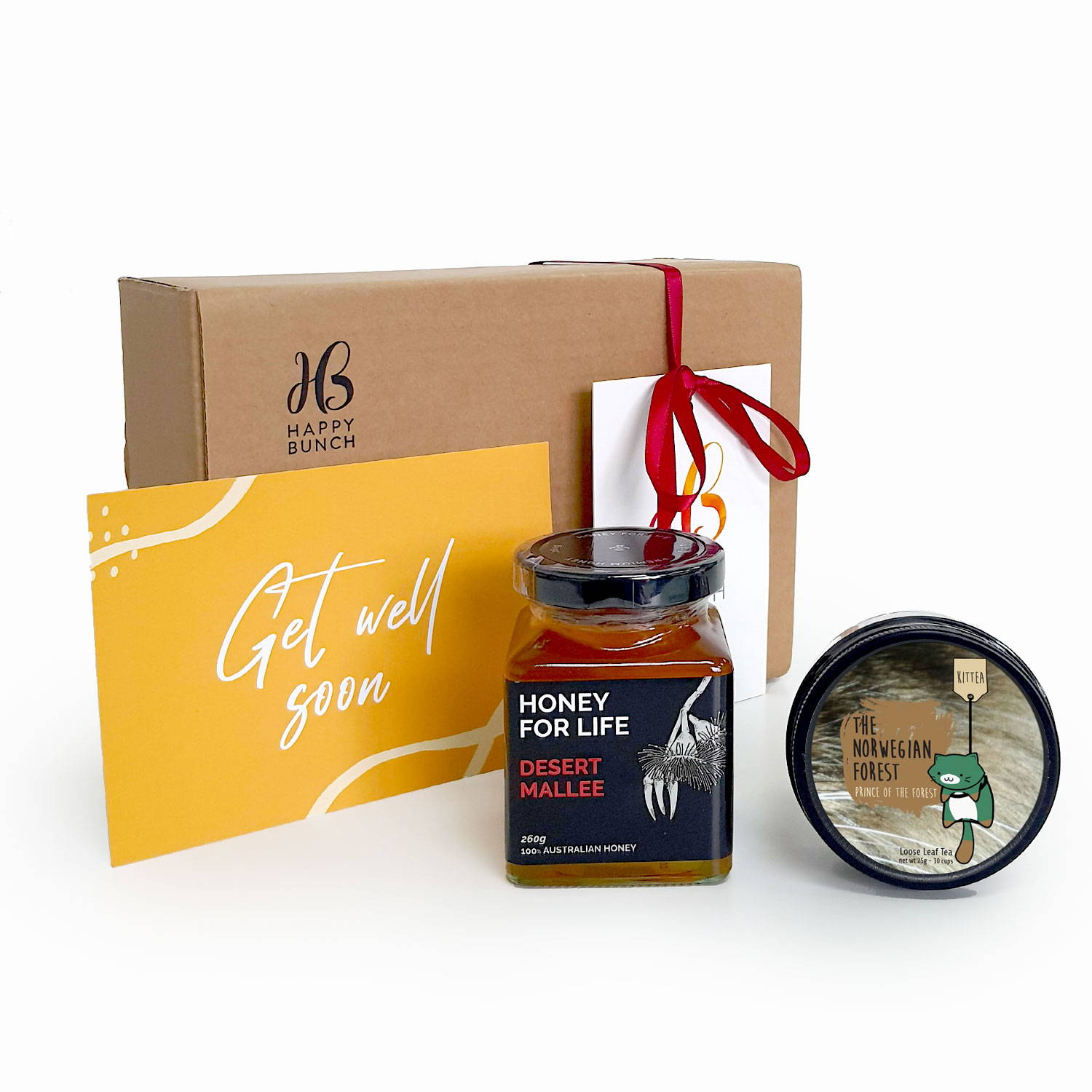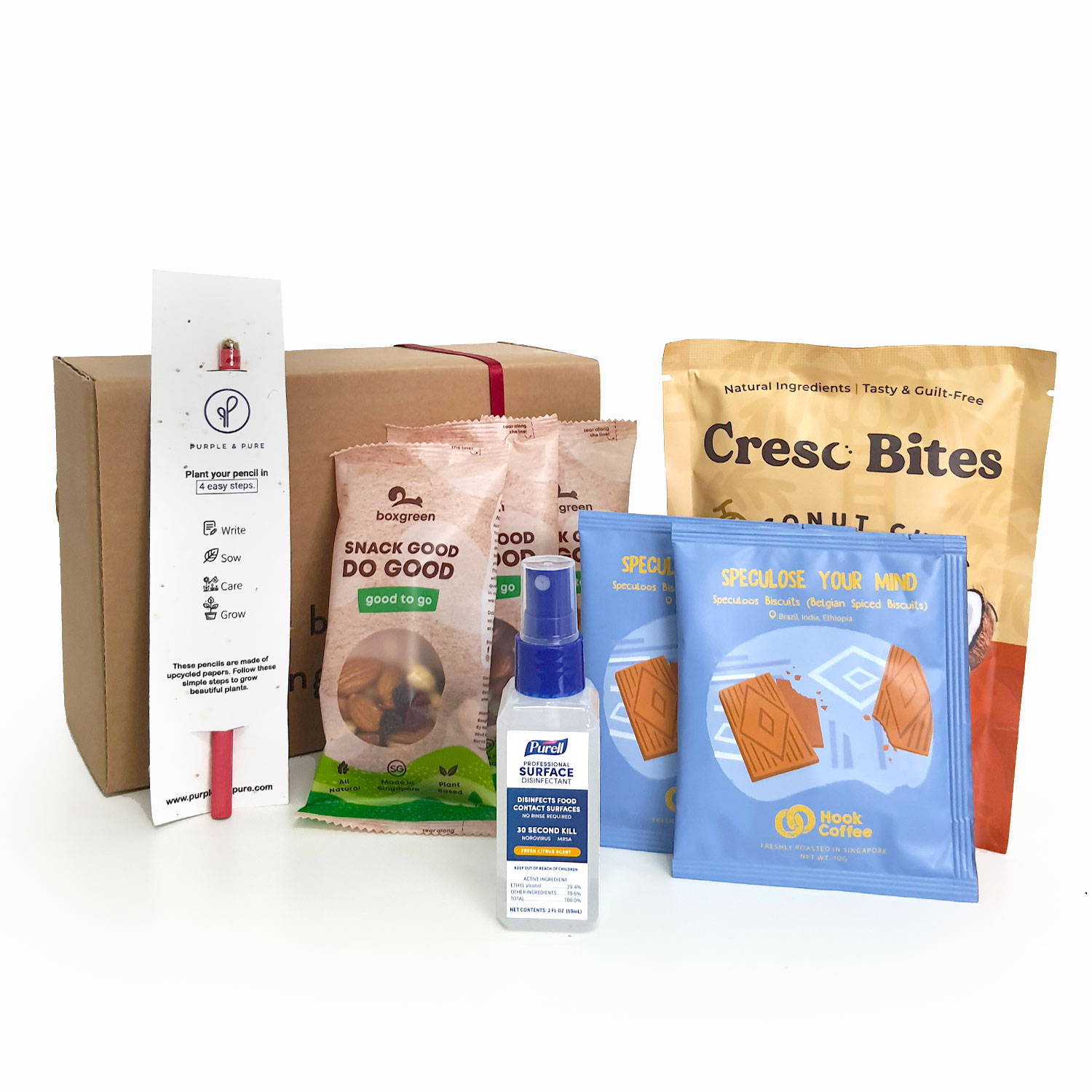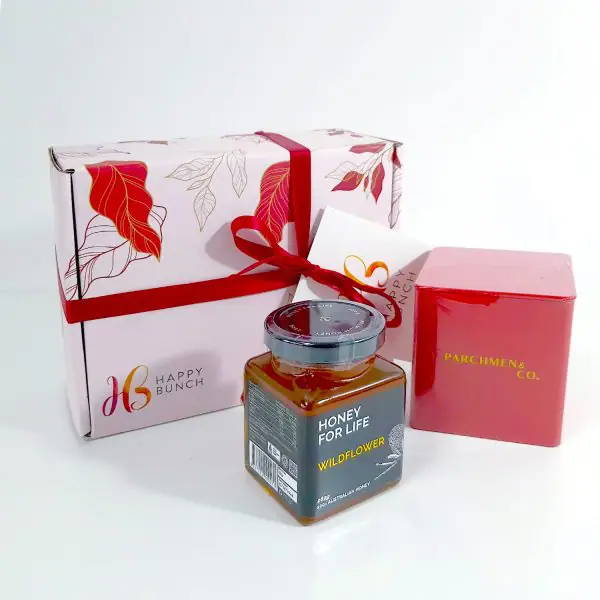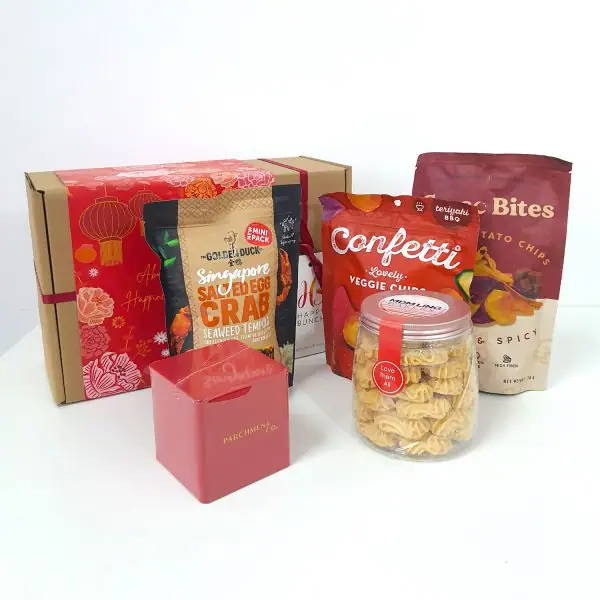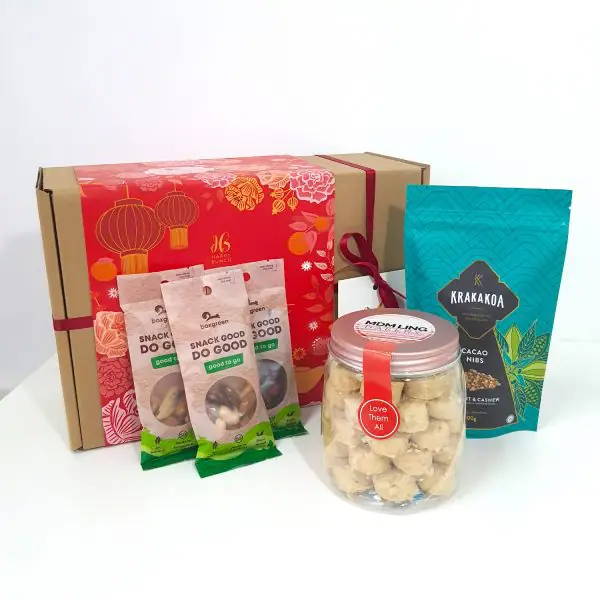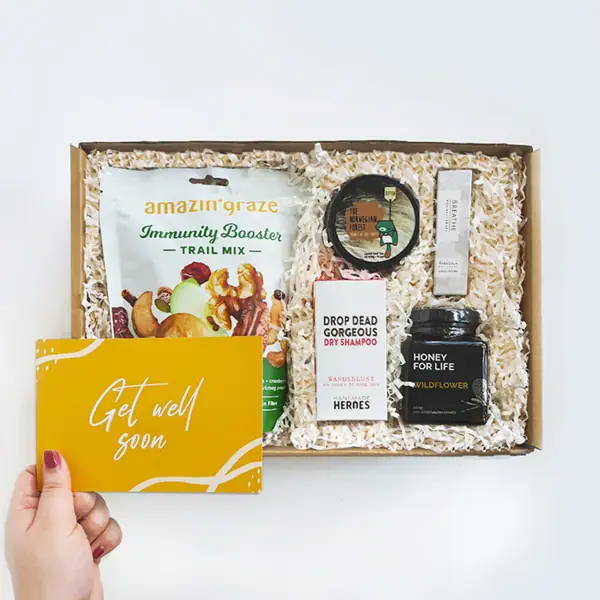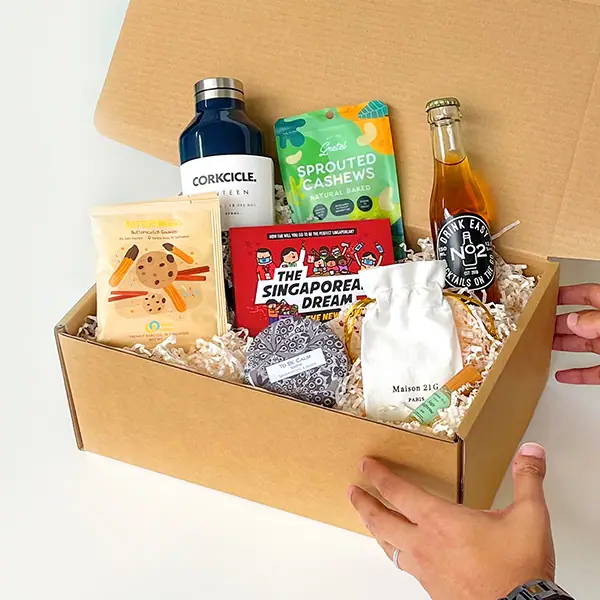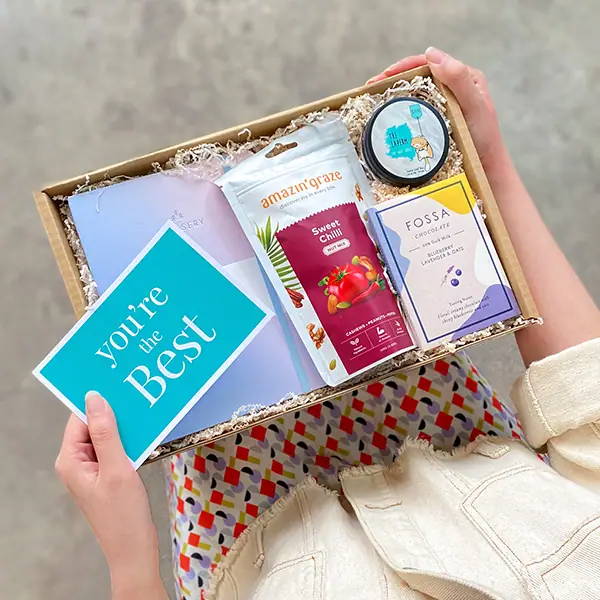 Back in the office? Boost your staff productivity with a prime selection of healthy treats and mid-day pick-me-ups! From Halal-certified goodies plus vegan-friendly chocolates to gluten-free snacks and coffee bags, get it all conveniently delivered to your office.